Nitty's Knocker is a visual and audial showcase of this generations underground music and art scene, with the host Nitty, who's corny personality speaks numbers to her viewers.
Nitty is a millennial hustler who does what it takes to get a job done, while having the most fun possible. She's always had a passion for broadcasting to the masses, wanting to be an entertainment anchor as her ultimate goal. With a voice that can light up the room, she hosts and curates a number of events around the city to bring the Peace, Love and Happiness. Nitty has always considered herself "A Vision with Purpose" and will work endlessly to keep that vision alive.
nittysknocker.com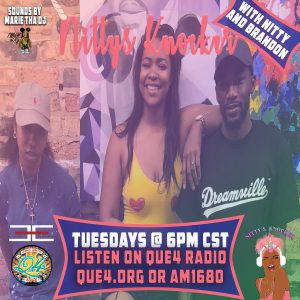 The Nitty's Knocker Radio and Vlog is all about good news and mental health, as well as Nitty's love for unicorns. The show has a range segments from entertainment and politics, interviews of local artists and entrepreneurs, the Unicorn Gospel, which is a weekly quote Nitty leaves her guests with and a talk about something that promotes positive thinking and healthy minds.
---
Read more
---